22 May

Top 3 Lockdown meals East-European style

What a time. Me – feet swollen, tired with mild anaemia, trying to prepare for the unpredictable act of giving birth whilst finishing PhD, editing a book and juggling childcare. The outside world – still in the midst of a pandemic, unsteady and unsure, trying to open back up again, whilst getting used to a new way of life. Yet here we are.

Perhaps it's time to ask: what has been learnt? For me, it's been slowing down, adapting, figuring out, going with the flow, using what I have. All mportant lessons in the school of life. I hope we will continue to live in this more sustainable way in the future. We have been relying solely on online deliveries, so lockdown meals have had to be flexible and simple. Why do I always forget crucial ingredients in my online shopping?!.

I feel that East European food is well suited to this kind of cooking. Perhaps it's the years of Communism that have caused our cooking style to be so adaptable. We also had lockdowns and shortages then, albeit for different reasons.

Although we are slowly feeling our way out of lockdown here in the UK, there are many of us that need to prolong the isolation. I am about to give birth, so I don't want to take any extra chances. I know from having my first child that the whole process can be difficult and risky without the risk of respiratory infection (I am finding it difficult to breathe as it is).

So for those of us who intend to keep living sustainably or those of us who are still not intending to return back to "normal" life for a while yet, here are some of my favourite, East European lockdown meals:
Kaszotto
A risotto method with East European ingredients. There are various grains (kasha in Polish) that are native to Eastern Europe: barley, millet, buckwheat (not officially a grain but still kasha). Kaszotto is popular in Poland and the Baltic States, countries that have often taken culinary inspiration from Italy in the past.
One of my favourites is kaszotto with wild mushrooms. You need to clean them well (pour boiling water over them so that their cups open, then clean under cold, running water). Then, we soak them overnight in a bowl of warm water before using. After that we proceed as with risotto: fry some onion, add the grains (pearl barley for example, as in the picture), a glass of wine perhaps (beer works well too), then good stock (I like to make stock out of leftover roast chicken bones). We cook the mushrooms separately for about 30min before adding to the main pan, along with any liquid. We continue like this until the grains are soft yet firm. As with risotto, we can add anything we like: asparagus, squash, wild garlic or other greens – whatever you have in the fridge or fancy eating. Remember to add herbs and season well. We finish off with some grated hard cheese and I like to serve it with soured cream on top.
Dumplings
Polish dumplings are the star of my kitchen when it comes to using up leftovers. The ones in the first picture are called kopytka – made by combining cooked, mashed potatoes with some flour and an egg, they are boiled in salty water until they float to the top, then I like to serve them with with a creamy mushroom sauce, or plenty of crispy fried onions, but most sauces work well!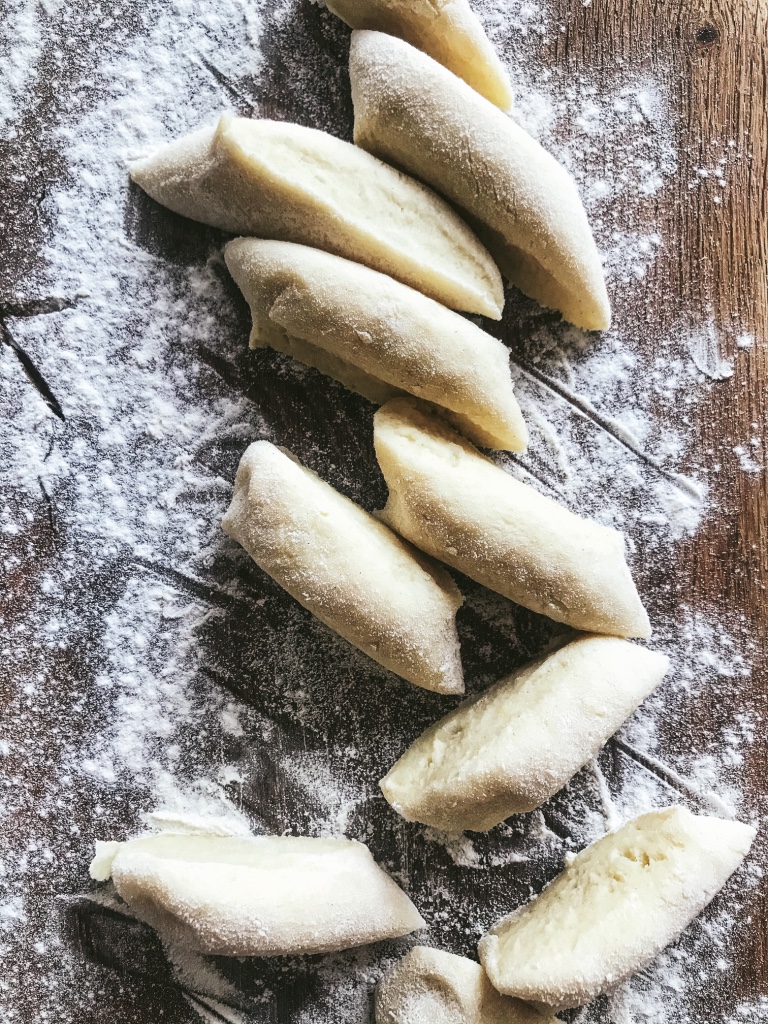 Pierogi are, of course, the quintessential Polish dumplings and their strong point is that they can be stuffed with anything. Check out my recent video on IGTV to see how to make the super-easy baked pierogi and this older cooking video to see how to make the original, boiled ones.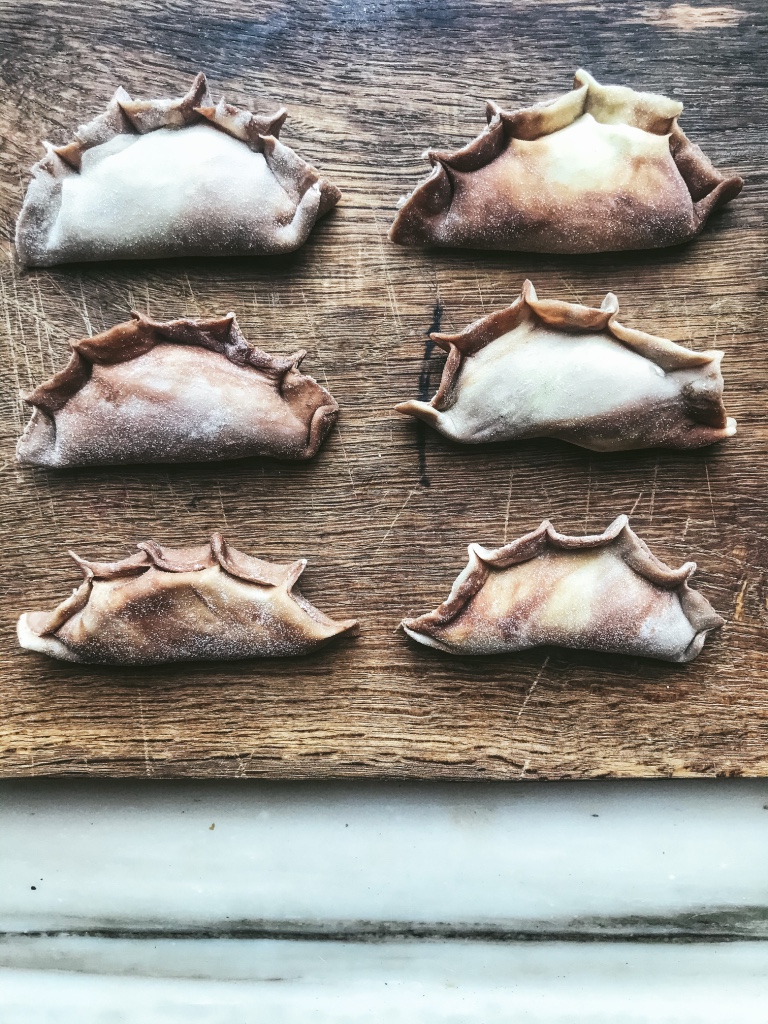 Soups
East Europeans have soups for every occasion and some of them are so simple, that it's laughable. The main ingredient for this soup is actually free!
This is nettle soup with some chard thrown in there for good measure. I used the basic recipe for Foragers' soup from my cookbook, Polska. I simply fried the (clean) nettle leaves and chard leaves in butter, allowed them to cool slightly and pureed. Then I added some stock (water would do) brought it back to the boil and added some flour to thicken it. Near the end of the cooking time, I added cream (remembering to mix a little soup into it first so it doesn't curdle). The topping was fried chard stalks with garlic and the obligatory boiled egg. Another favourite soup for hot days is Chłodnik – you simply make a stock out of young beetroot and their stalks – all chopped up finely. Allow this to cool, then add diced radishes, cucumber, dill and chives. Season well with salt, pepper and lemon juice, then add kefir or buttermilk or soured cream and yoghurt. You'll have a beautiful pink, refreshing soup.
Of course, I don't always eat East European food. There has also been crunchy stir fries (my friend's mum makes her own XO sauce which takes stir-fry to another level!), mild vegetable curries and dhaals, comforting jacket potatoes and plenty of pasta with simple sauces. I have also enjoyed using this Guardian article for quick inspiration, as to what to do with random fridge ingredients.