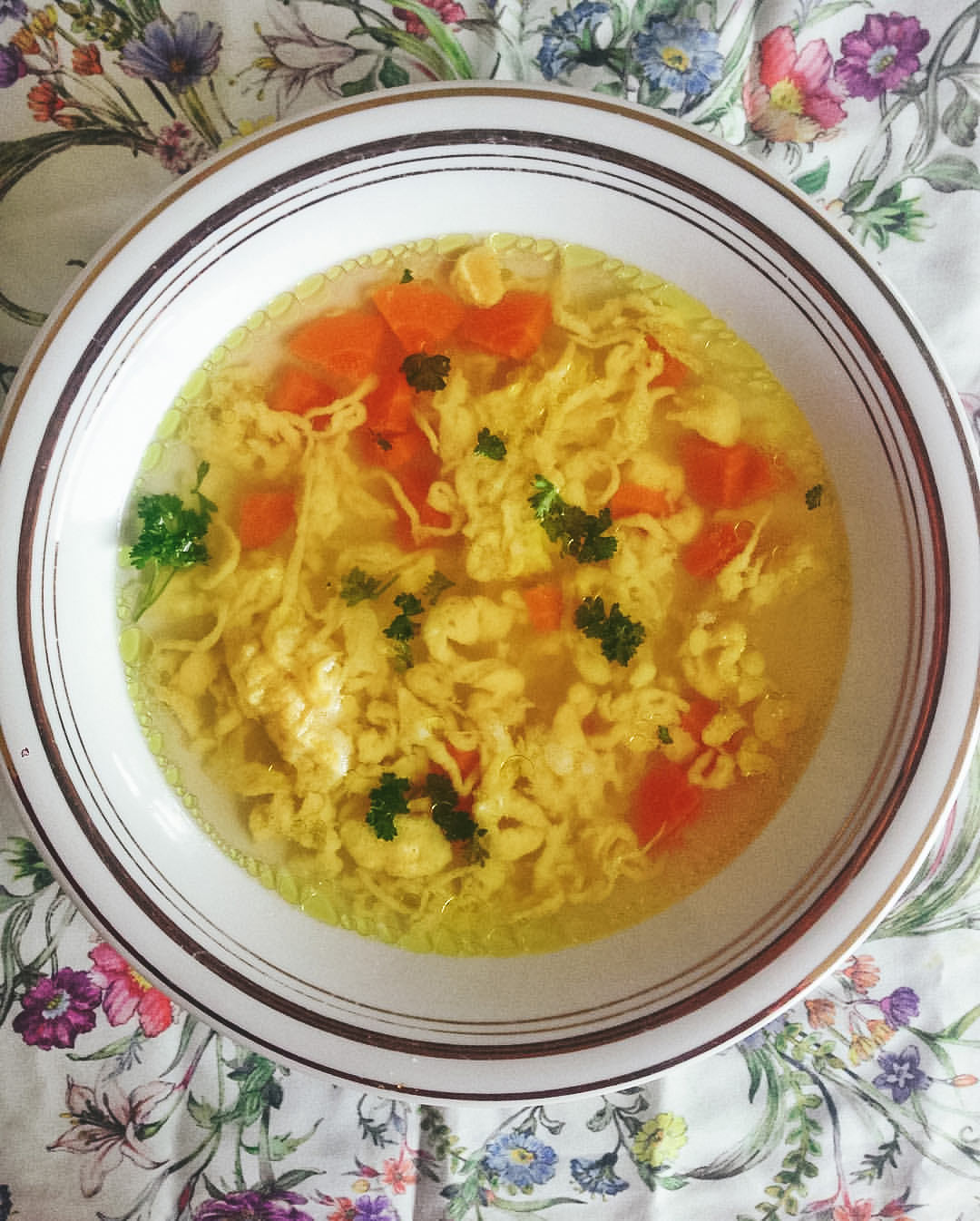 02 Feb

My top 3 polish soups for winter

We could all use a bit of comfort these day, so I thought I'd share my top 3 wintry soups with you. Soups are always my go-to comfort food at this time of year, but it seems we are eating them more than usual. Perhaps that's not surpring given the situation we find ourselves in this country and the warm and familial feeling a hot soup provides…

Soups are great for weaning too. Not only I can feed the bubba the soup itself (an unseasoned version), but I can also give her boiled veg and use the stock as a base for other things. Weaning has felt like quite an effort this time around. Perhaps I simply forgot what it's like – being constantly concerned with what the little one is doing, often rushing my own food (because she's tired or annoyed with tooth pain). Soups give a welcome break from all that, because they don't irritate the teeth and there's many things inside them for bubbs to try.

My top soups for Winter are, of course, Polish or East European (there's a lot of crossover between the various countries), though I do give them little twists to make them either lighter, more modern or simply more to my taste.
Rosół
The first go-to soup has to be rosół, because this is the quintessential Polish (and East European) soup. It's also massive in the Ashkenazi Jewish cuisine, understandably, as these two cultures co-existed for about eight hundred years in Eastern Europe. In my childhood I overdid rosół, so for about a decade I couldn't stomach it anymore. Now, my love for chicken broth has returned with vengeance. I can't get enough of the stuff! The day after making rosół my mum always makes it into tomato soup by adding tomato passata.
Rosół recipe with 2 minute "noodles"
2.5lt water
1 turkey thigh
Parsnip, peeled
¼ celeriac
3 carrots, peeled
Bay leaf
Handful parsley, shredded
2 minute "noodles"
1 egg
Pinch of salt
1 heaped tablespoon plain flour
Place all the ingredients apart from the parsley in a large pan and bring to the boil.
Turn the heat down to a simmer and allow the stock to cook for about 1 hour and a half.
Now make the noodles: beat the egg and salt with a fork. Slowly start adding the flour whilst beating all the time, until mixture is smooth.
Remove the meat and vegetables from the pan with a slotted spoon. Chop the carrots into bitesized chunks and keep to one side for the time being.
Season the soup to your taste with salt, pepper and parsley.
Bring the soup to the boil and pour in the egg mixture whilst stirring gently in one direction. Very thin egg noodles will form.
Pop the carrots back in the soup and heat for a minute or two. Finish the soup off with more parsley and serve.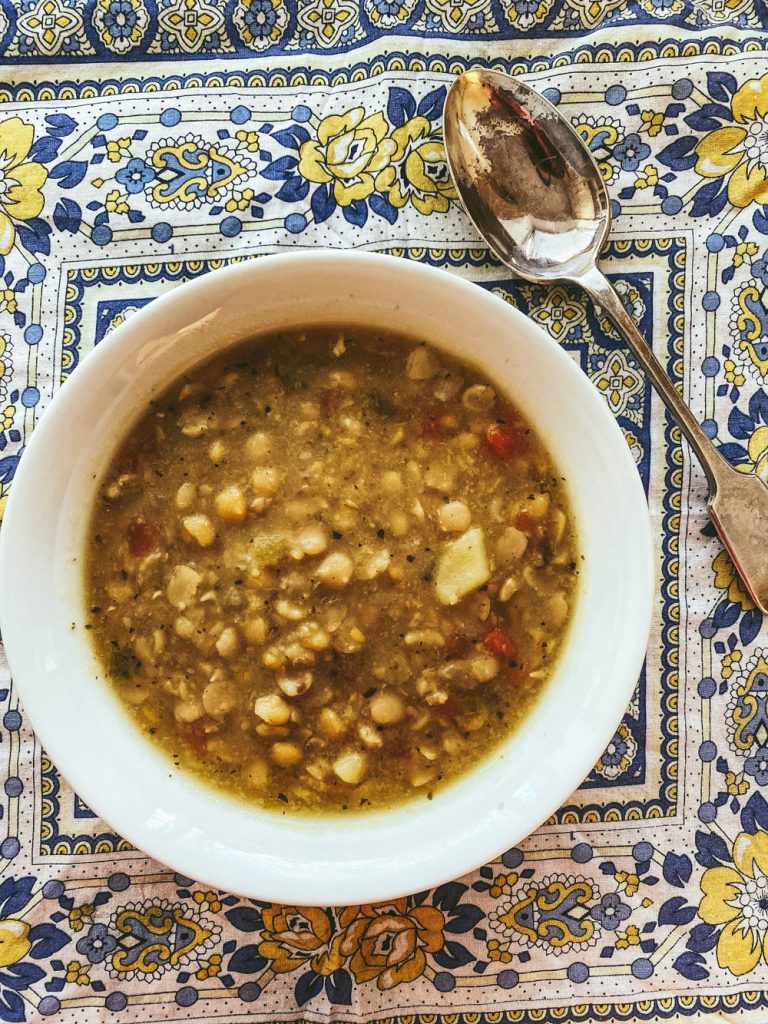 Polish yellow split pea soup
Grochówka is proper winter warmer and also gives you sustenance, which is what is needed with all this home learning going on at the moment. The traditional version contains lots of meat, but then it's intended for soldiers (Grochówka wojskowa) – if you want to add something meaty, then may I suggest adding some crispy fried bacon or dried sausage bits before serving. I don't think it's necessary though.
Grochówka recipe
2.5 lt water
300g dried yellow split peas
2Carrots, peeled and grated or diced
Parsnip, peeled and grated or diced
1/4 celeriac, peeled and grated or diced
Leek, chopped
5 potatoes, peeled and diced
Bay leaf
Peppercorns
Pimento berries
Sea salt
2 tablespoons dried marjoram (or more)
2 garlic cloves
A tiny bit if sugar

Soak the split peas overnight, then cook in a pan of boiling water until soft but not falling apart.

Place all the vegetables in a large pan with the water and bring to boil. Simmer until potatoes cooked.

Add the cooked split peas to the large pan and cook altogether for about 15min. Season with salt, pepper and plenty of marjoram.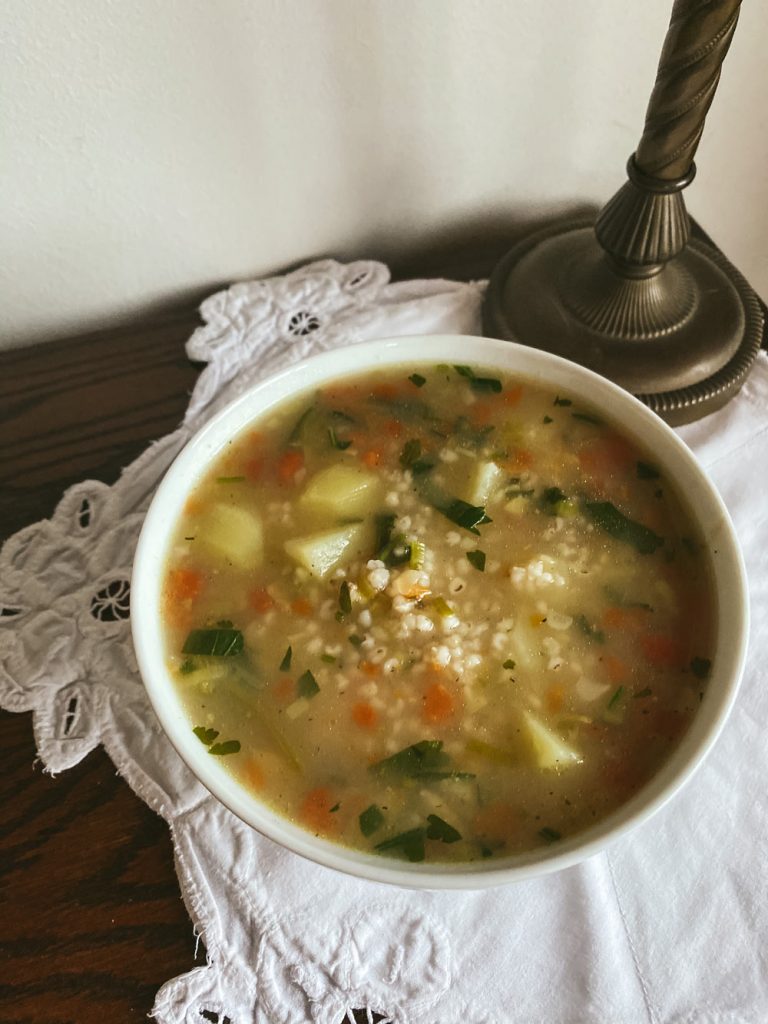 Krupnik vegetable and barley soup
Krupnik is another soup that feels like a proper meal and tastes like the winter of childhood to many a East European. You can make it veggie, by leaving out the turkey and lardons and if you can't get pot barley then use pearl barley (I did in the version in my cookbook), but add it at the same time as the potatoes.
Krupnik recipe
2.5lt water
1 turkey thigh
4 carrots, peeled and grated
1/2 celeriac, peeled and grated
1 parsnip, peeled and grated
1 leek, chopped
6 allspice berries
6 peppercorns
2 bay leaves
200g pot barley
4 potatoes, peeled and cubed
2 tablespoons fresh dill
2 tablespoons fresh parsley
Handful bacon lardons
Salt and pepper to taste
Place the turkey thigh in a large pan with the carrots, celery, parsnip, leek and bay leaves and cover with the water. Bring the water to the boil, then turn the heat down and simmer for 20min.
Add the allspice, peppercorns and potatoes and simmer for a further 20min.
Add the barley to the pan and continue to simmer for a further 20-30mim until barley is soft.
Fry the lardons on a frying pan until crispy.
Season the soup with salt, pepper and the herbs, then top with lardons just before serving.
Another soup I crave in the wintertime is called Kwaśnica. It is a sauerkraut soup from the mountains of Poland and you can find the recipe for it here.