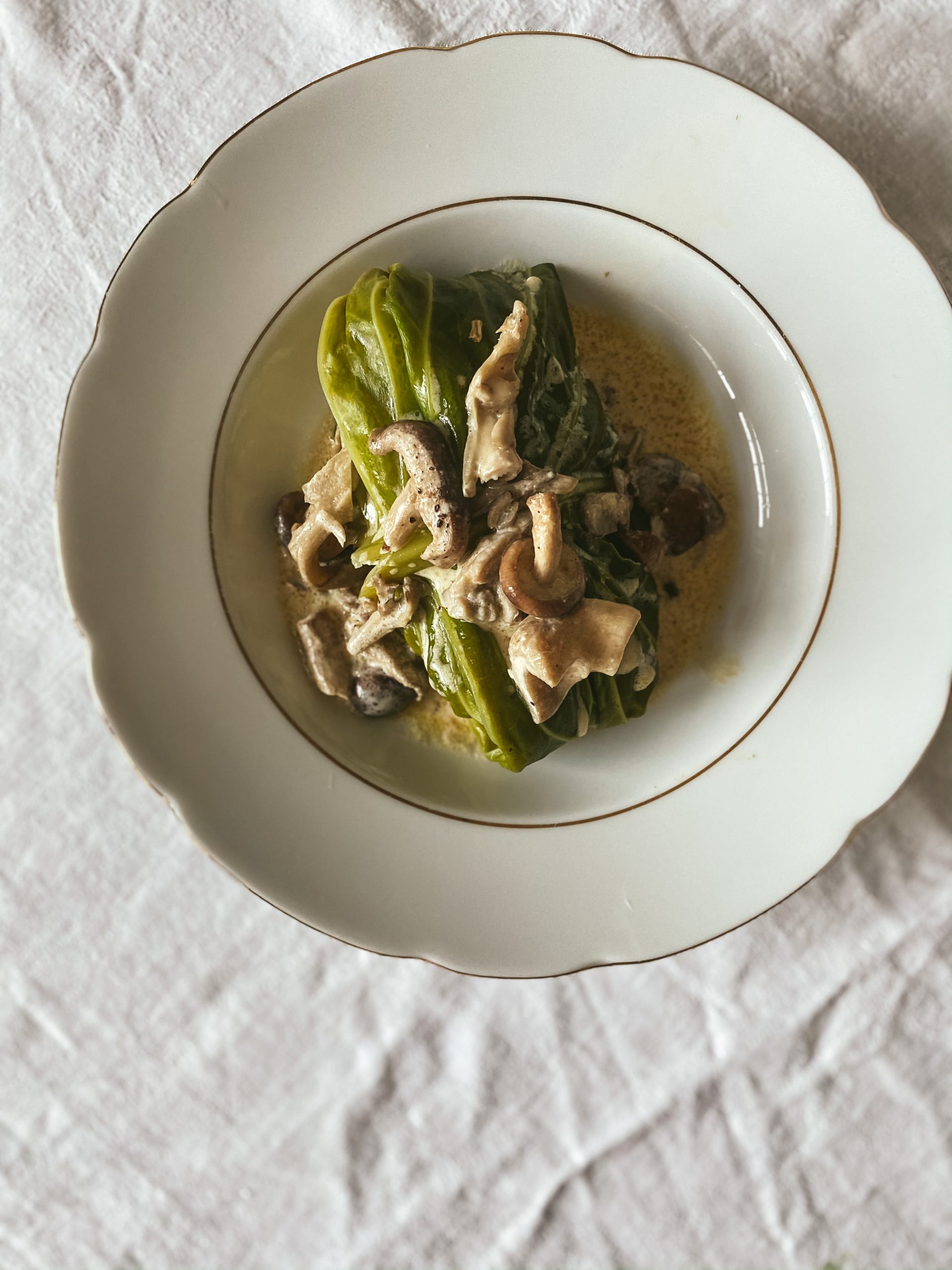 28 Nov

Vegetarian gołąbki

It's that time of year again – a time for contemplation and gołabki. I don't know why I always eat so many "little pigeons" at this time of year. Perhaps it's the abundance of cabbage and mushrooms… This year, after having various meaty versions wrapped in cabbage leaves, I decided to opt for something a little different for this vegetarian gołąbki recipe – spring greens – which my mum recommended to me a while back. They worked well but tasted a little different obviously, so free to use cabbage if you prefer.

I have been asked to share a vegetarian gołąbki recipe on more than one occasion, and as I make them often at this time of year, it felt like the right time to do so, but it's been difficult to choose my favourite. There are so many possibilities with veggie gołąbki… I eventually settled on the kasha and wild mushroom with a creamy mushroom sauce, because I love the classic combination of nutty kasha with earthy mushrooms and then the velvety cream really makes it shine. You could serve these with mashed potato for a heartier meal, but I quite like them on their own.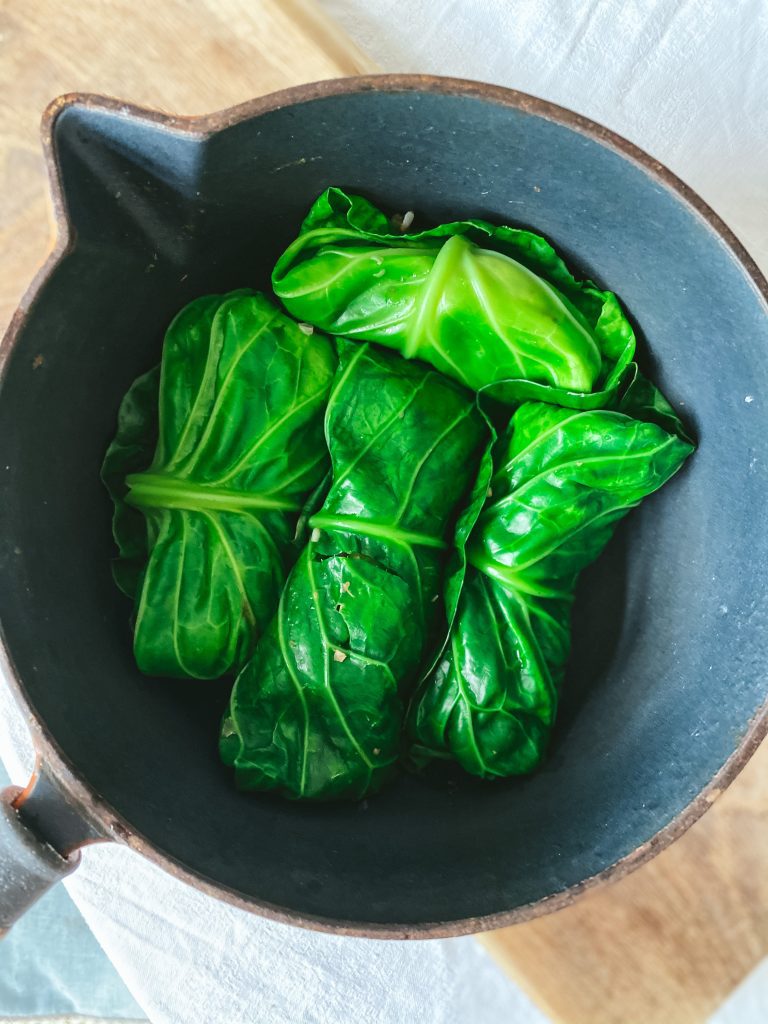 Recipe
Ingredients – makes 6 gołąbki
12-14 Spring greens leaves
150g dried kasza
100g mixed, fresh mushrooms
30g dried mushrooms
Small onion, finely chopped
2 tablespoons rapeseed oil or 1 tablespoon butter
50ml soured cream
Wash then soak the dried mushroom in 300ml of boiling hot water for at least 2 hours.
Place the kasha in a pan and cover with 1cm of water, add a pinch of salt, cover and bring to the boil. Once there is no water left in the pan, cover the pan in a bath towel , tie it firmly in place and place somewhere warm (like a bed, under the duvet) to steam for 30min.
Boil the rehydrated mushrooms in the water they rehydrated in for 20min.
Fry the onion in the oil or butter for a couple of minutes then add the fresh mushrooms and fry until browned. Then, add the mushrooms from the sauce with a couple of tablespoons of sauce. Cook altogether for a further 10min on a low heat. Reserve the rest of the liquid.
Place half the mushrooms in a food processor. then combine them with the kasha – your filling is ready.
Blanche the spring greens for a few minutes, then placed into iced water for a moment.
Place a heaped tablespoon towards one wide edge of the leaf you are going to use. Fold the nearest edge around the filling, fold in the side, the continue to roll around. Take another leaf and wrap that around again. Place each wrap in a heat proof pan, snugly next to one another. Continue until you have six gołąbki. Cover in the water you used to rehydrate the mushrooms, leaving any gritty bits behind.
Place the gołąbki on a medium heat, cover and bring to a simmer. Then turn the heat down to low and allow them to bubble away for about 30min.
Once the gołąbki are nearly ready, prepare your sauce – add the soured cream to the mushrooms left behind in the frying pan and season well with salt and white pepper. Heat gently, adding tablespoons of the liquid from the cooked gołąbki until the sauce tastes right to you.
Serve the gołabki with the mushroom sauce spooned over the top.
Many would say that 2020 has been a terrible year. I'm lucky in that I don't know anyone who's been tragically affected by Corona Virus. My uncle had the virus, but got over it without any need for hospitalisation. He's over 70, smokes and is quite portly, so I put it down to all the fermented food he's been eating his whole life. What's more, before they knew he had it my parents spent an hour with my uncle. INSIDE with him. They didn't catch it. That makes me feel eternally grateful and blessed.
I can't deny that my life has become challenging at times in 2020 It was especially hard waiting for our bubba to arrive – my 4 year old stopped going to nursery, had a major regression and compounded with other pressures on the family the atmosphere became tense. The last thing you need before bringing a baby into the world. If you want to know more about my experience of matrescence second time around, then you can listen to this podcast.
By contrast, this lockdown, Delfina had been going to school (until someone in her class got Covid three days ago). Kazia is also more robust now, so I'm less of a nervous wreck. I have decided to cancel my own commitments over the coming two weeks, so I can properly look after the girls. It felt annoying and unfair at first, but then I realised it's really a small price to pay. I know my limitations now and so by cancelling things I am actually being kind to myself, allowing for life to just flow. I now have time to focus on my children's needs, cook whatever I feel like and even brush my hair from time to time. Seriously, I hope that the pandemic has helped everyone put things into perspective and focus on the important stuff in life. If challenges are there to help us to learn and grow, then I have learned to let things go a little more (both through Covid and through having a newborn again).