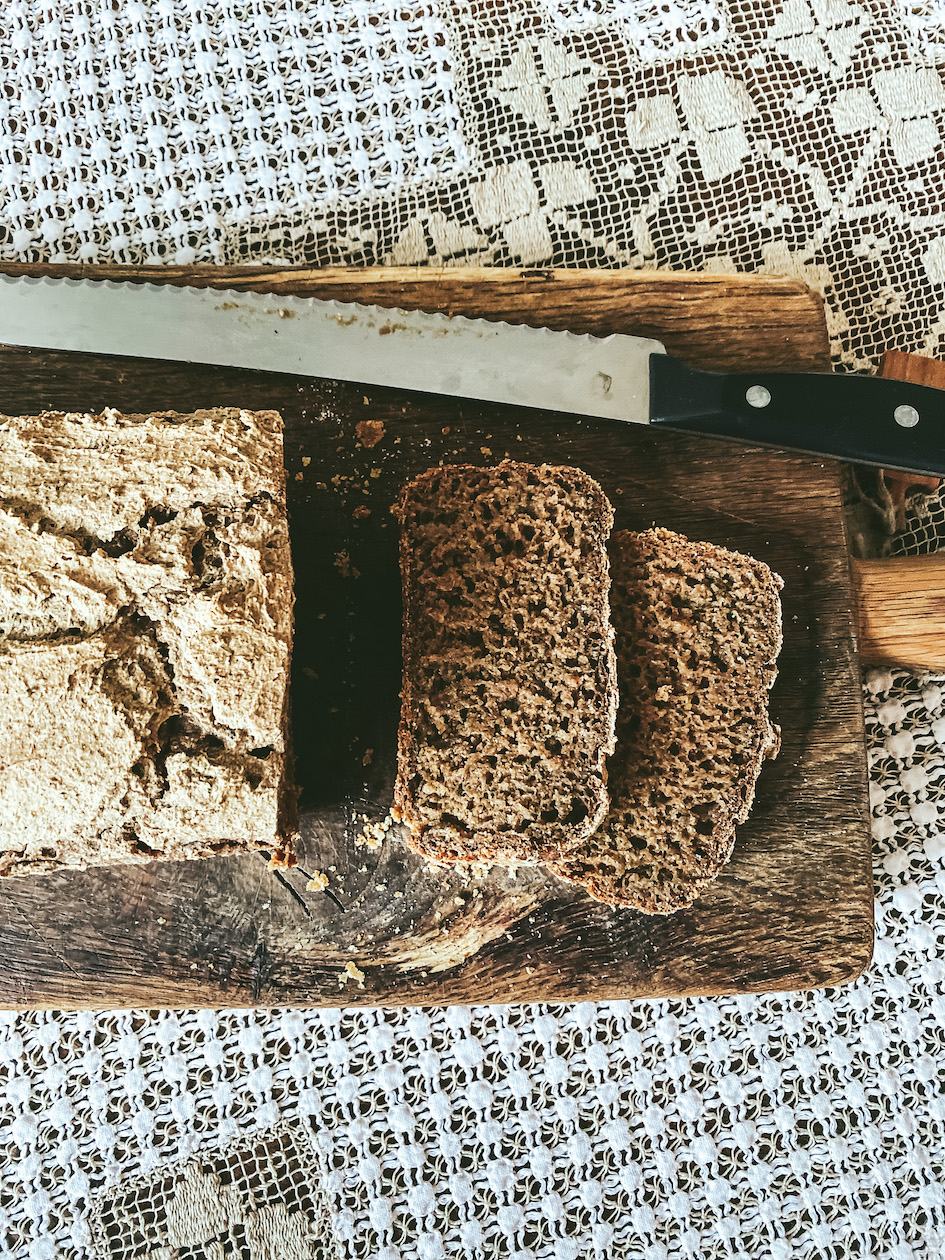 31 Jan

Bread and beginnings: a recipe for nettle rye sourdough
Beginnings
It's barely the beginning of the year anymore, but the lateness of this post about my favourite nettle rye sourdough and my musings on the year ahead is a testimony of the times. The tail end of January is really the best I could do with everything else that's been going on. Let me explain.
Musings (or lack of)
I'm not a massive bread baker. I have phases when I bake every week and other phases when I let things slide and kill my starter. When I do bake, it's always a dark rye sourdough. While I love a crusty, white loaf as much as the next person, I am happy to buy that in a local deli. Rye sourdough, however, is the simplest and most satisfying bread to make. You don't even need to knead! I grew up on rye sourdough and it's the bread that my godfather taught me to make, so for me it's personal. Rye sourdough was present at every gathering of my childhood, therefore many special times are inextricably attached to it, too many to name. Like the strongest, most resilient relationships in life, it's just there, supporting and sustaining, you love it but you don't need to think about it too much.
2022
This year has started off very busy, hectic almost, but I am keeping myself grounded and stable, so let's not use the word hectic lest it knock me off my precariously balanced ledge. My partner is away filming in Saudi Arabia, my dad has had an operation, my mum is looking after my dad and meanwhile, I have had some important deadlines. On top of this, both myself and the baby caught Covid, while my eldest daughter stayed home from school. I must admit to feeling a little resentful of my partner, who's Covid experience was breakfast in bed every morning and me taking care of the children and everything else around the house. Ah the luxury of working in peace (if you know, you know). Needless to say that I haven't had much time to muse over the coming year, which I so love to do in January.
Resolutions
Therefore, I've kept my resolutions very simple. I have one for the planet, which is to start using refill shops again and not buy any food packaging that is not recyclable (f I can help it – I won't flagellate myself if do so accidentally). I have another resolution for my mental well being, which is to go to sleep between 10 and 12 (proven in a recent study to be the healthiest time to go to bed) at least twice a week, building up to 4 by the end of the year. Finally, I have a resolution for my body, which is to eat only 8am-8pm twice a week, again building up to 4 by the end of the year. Writing them here, I am a little embarrassed about the smallness of my resolutions, but I always like to start small (otherwise, I find myself resisting and rebelling). The wonderful thing about starting small, is that you don't have far to fall. Already, I have messed up a bit, because I haven't managed to do those things I planned twice a week. However, I've managed once a week, which was more than before and it felt good, so I'm winning.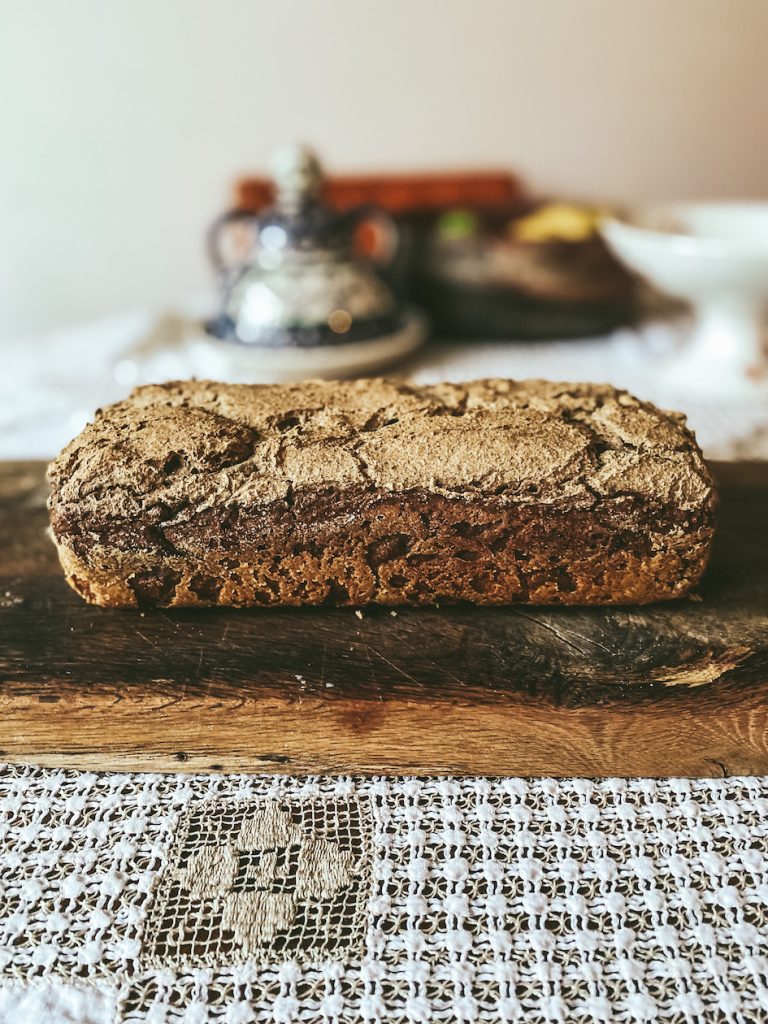 Rye sourdough
Rye sourdough is the food version of starting small. It's such an easy and simple recipe and yet it makes something so wholesome and nourishing. My 6 year old daughter says that's it's her favourite type of bread, so I'm very pleased that she has caught the rye sourdough bug too. At the moment, I am using dried nettles that were given to me by a Polish neighbour, whose dad picks them in their local woods in Poland and meticulously dries them every nettle season. My friend swears by nettle infusions for her skin, whilst I like to add them to stews and this rye sourdough. Baby nettles are now starting to appear so you can start picking and drying them early this year. Make sure you just pick the youngest leaves, the top 6 or so on each plant. Dry them out of the sun on a wire rack.
Recipe
100g wholegrain rye flour
150ml warm water from a pre-boiled kettle
1 teaspoon kefir (optional)
Place these in a sterilised jar and mix well with a wooden spoon. Cover with a clean tea towel and leave for 4 days at room temperature. Stir once a day with a wooden spoon. On the fourth day, make the bread.
300g wholegrain rye flour
100g strong, white bread flour
250g warm water
1 tablespoon oats
1 tablespoon wheatgerm
2 tablespoons red malt flour
1 teaspoon salt
2 handfuls dried nettles, crushed
Prepare a tin by greasing it and dust with flour.
Place the flours and the oats with the salt into a large bowl and mix to combine.
Pour some warm water into the jar with the starter, add the molasses and mix well. Pour this into the bowl with the flours and mix with a wooden spoon.
Finally, add the nettles into the mix, and mix well. Pour the mixture into the tin, you can reserve 2 tablespoons in a clean jar, if you would like to make bread again with a week (simply keep it in the fridge and wake it up 24 hours before baking by taking it out of the fridge and wake it up by mixing a tablespoon of flour and a splash of warm water into it).
Cover with a tea towel and place in a warm place to rise for about 10 hours. I like to keep it overnight on top of a radiator.
Bake for 1 hour at 180 degrees C.