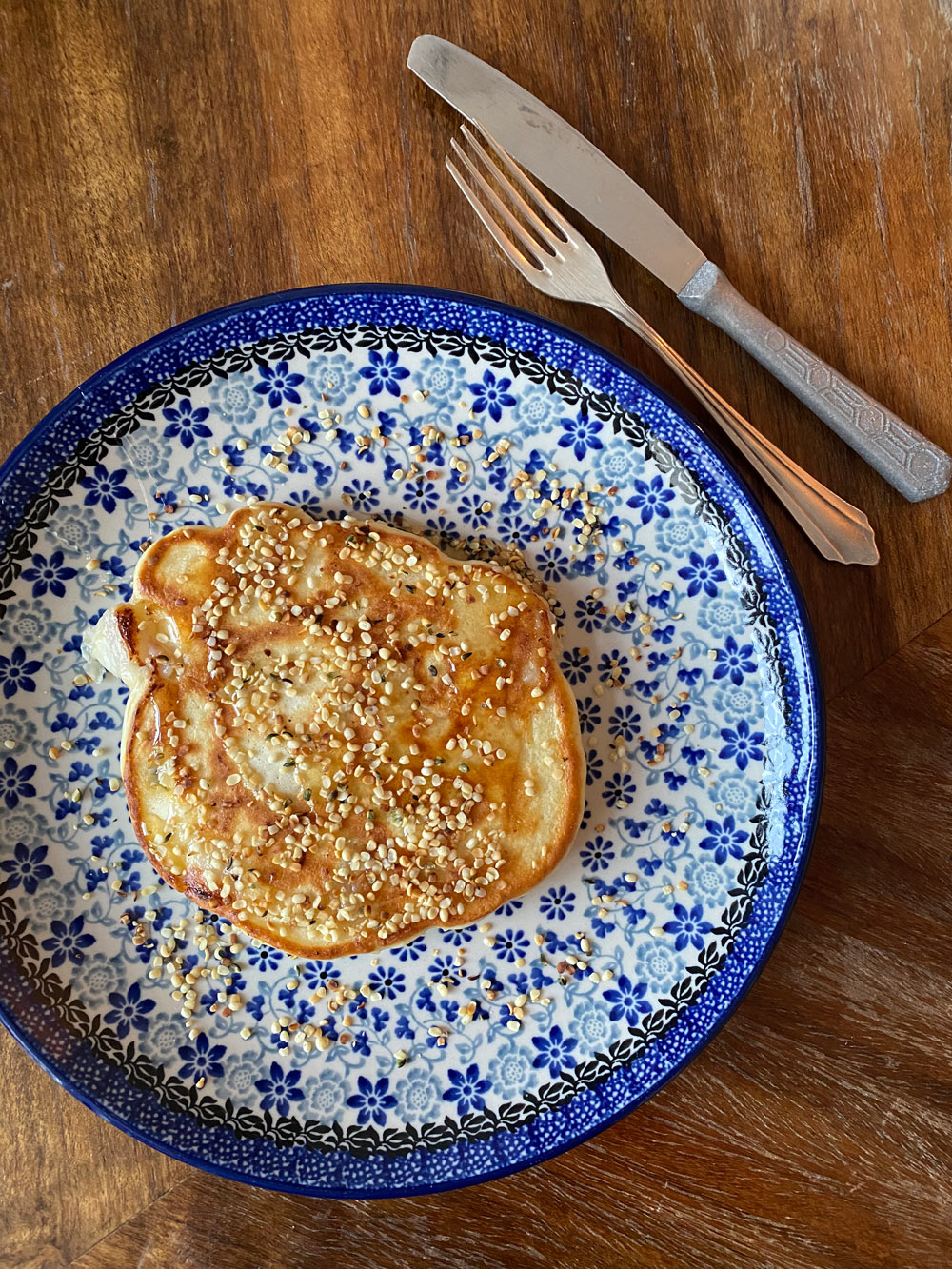 15 Feb

Savoury and Sweet pancake recipes for pancake day

Pancake day happens every weekend in our house because East European food is all about pancakes. We have sweet ones and savoury ones, thin pancakes and fat pancakes, pancakes that take ages to make and quick and easy ones. I wanted to share a couple of my favourite recipes to celebrate Pancake Day this year. We are in the midst of lockdown number 3 here in London, so let food be our solace! I don't mean we should all be sitting at home stuffing our faces all day, but food is something we can all enjoy. I love the way food can transport us to other places and other times, it is a constant source of joy and comfort to me.
Pear, twaróg and hemp seed pancakes (sugar free)
This is the pancake I will be making on Pancake Day 2021. It's a new recipe, inspired by my Baltic travels. Hemp seeds are very popular in Latvia and full of goodness (and naturally occurring, feel-good CBD). They are a wonderful flavour match for ripe pear. The addition of twaróg (you can use any curd cheese or even cream cheese) imparts them with a moreish creaminess.
Recipe
Ingredients – makes 3 large pancakes
1 pear, peeled and diced
50g twaróg or curd cheese
150g plain flour
pinch of salt
1/2 teaspoon baking powder
1 egg, separated
125ml milk1 tablespoon kefir (or yoghurt)
rapeseed oil for frying
1 tablespoon hemp seeds, toasted – to serve
good quality honey – to serve
Place the flour, baking powder and salt in a large bowl and mix to combine.
Beat the egg white to soft peaks.
Add the egg yolk to the flour, pour in the milk and stir until there are no lumps. Add a splash of the rapeseed oil too.
Break the twaróg into small bits and add to the mixture (or just stir in the cream cheese thoroughly).
Fold the beaten egg whites into the large bowl and stir gently to combine.
Start heating up the rapeseed oil in frying pan.
Add the pear chunks to the batter.
Once the oil is hot individually fry your pancakes in it, for about 3 minutes each side. Drain on kitchen paper.
Serve sprinkled with hemp seeds and drizzled with honey.
Savoury buckwheat and smoked salmon pancakes
This is a new, quick take on an East European classic blini (pancake). In the traditional version, fresh yeast is used, but that recipe does take quite a while. If you fancy trying the traditional buckwheat pancake, you can find the recipe here – it's delicious, but this no fuss version is also very tasty and so much quicker. You can easily make these gluten-free by making them 100% buckwheat and adding 1 teaspoon of (gluten free) baking powder.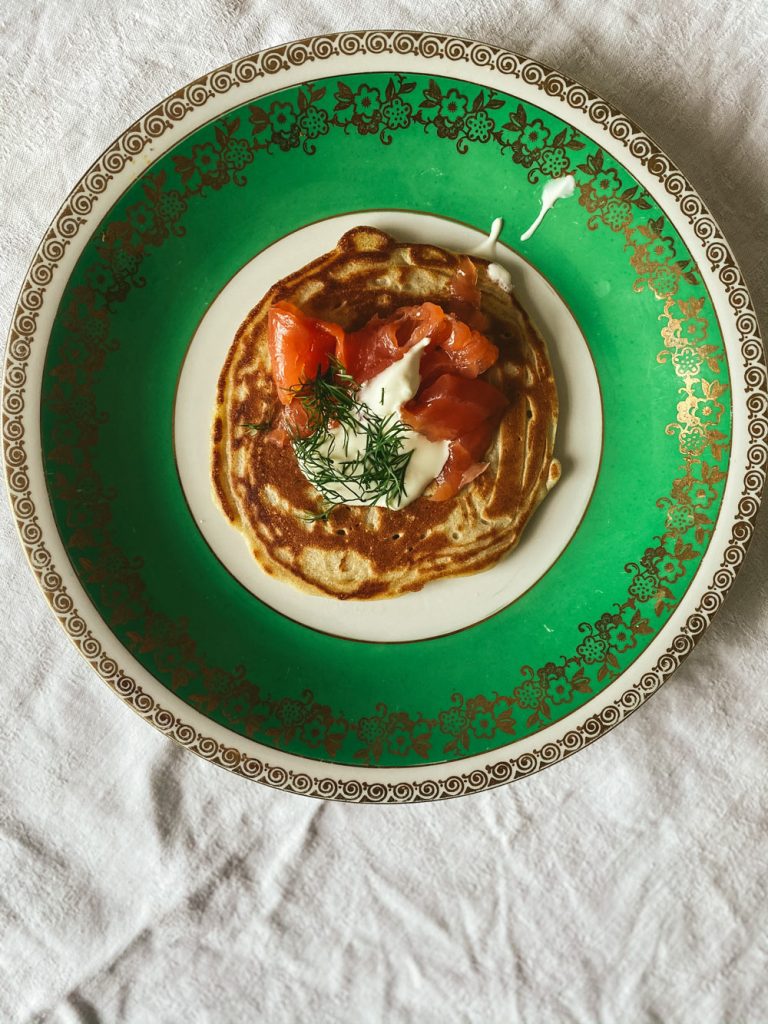 Recipe
Ingredients – serves 4
325ml milk
100g self raising flour
100g buckwheat flour
1 egg, separated
150g salted butter, melted
pinch of salt
rapeseed oil for frying
smoked salmon, soured cream and dill to serve
Sift both the flours into a large bowl and add the pinch of salt
Whisk the egg white to soft peaks.
Add the egg yolk, the melted butter and the milk into the large bowl and mix well until there are no lumps.
Fold the egg whites into the batter.
Heat the rapeseed oil on a frying pan and fry the batter in batches for about 2-3 minutes on each side. Sometimes, I even like to do one large blini per person, as you see on the photo up there.
Serve the blini with smoked salmon, soured cream and dill on top.