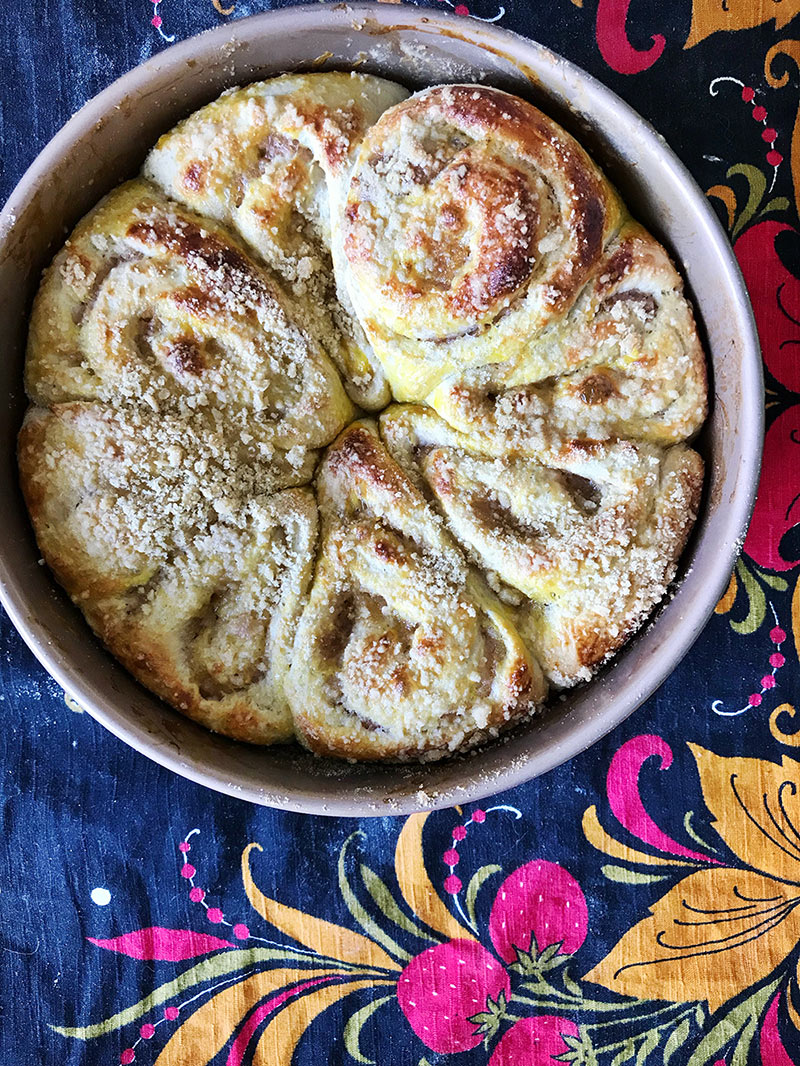 07 Jun

Elderflower, pear and peach yeasty buns

I used to think that when I published my own cookbook, life would be easy. I used to think that POLSKA would convince everyone to the merits of Polish and East European food and then the whole world would immediately want to know more. POLSKA was indeed a great success (which I am eternally grateful for) and everyone seems to have a copy that they love and use. Yet trying to get my next book idea off the ground has proved a challenge. At this point, there's nothing left for me to do except make therapeutic, yeasty buns and wait. You can't force these things. Eastern European cuisine and culture is equally as rich, varied and multi-faceted as Middle Eastern, and I'm determined to explore it further, but whether I will do this in book form remains to be seen.

These buns have made life feel lighter and fluffier today, which is exactly what was needed. The elderflower season will be over soon, so if you want to make this fragrant version of the softest buns in the world, then don't wait around too long. You could of course make them with shop bought jam too, but it's not quite the same – go on, go and pick some elderflowers! The elder I used overhangs a small brook in the park, where Nusia and I go to paddle about on warm days. Watching it stretch it's branches towards the sun and drop it's star shaped flowers into the river put things into perspective for me.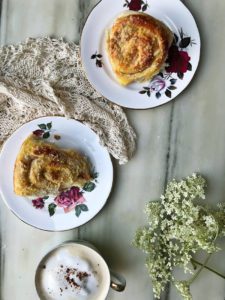 Ingredients
For the jam:
10 heads elderflowers
1 peach, chopped
1 pear, chopped
3 tablespoons caster sugar
1 teaspoon lemon zest
1 teaspoon cornflour
couple of drops of vanilla essence
For the dough:
200g plain flour, sifted
25g fresh yeast
25g melted butter
100ml warm milk
50g caster sugar
1 egg yolk
pinch of salt
Crumble
1 tablespoon brown sugar
1 tablespoon flour
1 tablespoon butter
pinch of cinnamon
Make the jam first: Cover the elderflowers with water, add the sugar and lemon rind and heat to boiling point. Stir until the sugar dissolves, turn the heat down. Cook together for about 15min, then strain the elderflowers out. Add the chopped pear and peach to the syrup and bring to the boil again. Turn the heat right down and simmer until all the fruit has dissolved. Add the vanilla essence and finally sift in the the cornflour. Stir until the jam thickens, then turn the heat off and allow to cool.
Combine the fresh yeast with the sugar and the warm milk and allow to rise in a warm place for 20min.
Sift the flour into the risen mixture and kneed it with your hand, while pouring the butter in slowly with your other hand.
Kneed for about 5-10min.
Cover the bowl with a tea towel and allow to rise (in a warm place) for 45-50min.
Tip the dough onto a floured surface and kneed for a moment longer, then roll with a rolling pin into a large rectangle.
Smear the jam you made earlier all over your rectangle, then roll from one of the longer sides away from you.
Cut your roll into 6-7 even pieces and put these side by side in a round, greased baking tin. Cover and allow to rise for a further 20min.
Make you crumble by combining all the ingredients with your fingertips.
Smear your risen buns gently with egg yolk, sprinkle the crumble over the top (Nusia did this bit beautifully).
Bake in a pre-heated oven at 180 degrees C for 25min, until golden.
Your troubles don't stand a chance with these buns in the house: first, there's the yeasty smell that will permeate your entire environs and evoke a childhood that you may or may not have had. Then, there's the soft and sticky texture, interrupted only by an uncannily fragrant sweetness (though not too sweet by any stretch!) of the filling. At the end of the day, there is precisely one bun left and my belly is feeling indulgently over-filled in that satisfying, comforting way that only a yeast product can fill it. There's something magically life-affirming about foraging for food, then creating something delicious from nature's bounty.