28 May

Massive mushrooms stuffed with sundried tomato, pine nuts, basil and cheese

As the climate becomes more Mediterranean so should our diets! I don't mean to trivialise climate change, it's just that in the UK a slight climate change isn't such a terrible thing. Weather has never bean our strong point. So far this year it's been a lovely Spring and today felt positively hot. Days like these I like to eat light food that makes me think of holidays in Italy or the South of France. These mushrooms are perfect for sitting in your garden with a glass of wine and envisioning the glistening Mediterranean Sea, even if you're just staring into your murky pond.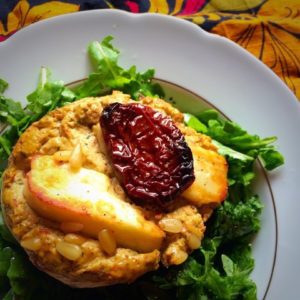 Ingredients

2 Portobello mushrooms or similar
200g ricotta or another soft, white cheese
Handful fresh basil 5 sundried tomatoes
Handful pine nuts, toasted
2 tablespoons olive oil 2 slices halloumi
Garlic clove
Salt and pepper to taste
Recipe
Place the mushrooms upside down in a baking tray and put the oven on 150 degrees C.
Fry the halloumi cheese for 3min each side or until golden.
Blend the ricotta with the basil, sundried tomatoes, pine nuts and olive oil, reserving a few pine nuts and sundried tomato for topping. Season.
Stuff the mushrooms with your ricotta mixture and top with the remaining bits:
halloumi
, sundried tomato and
pine nuts
.
Bake for 25min.
Serve on a bed of rocket and eat outside in the sunshine if at all possible.