14 Sep

Where to eat in the Baltic States – my top 10
Uoksas, Kaunas
Ruhe, Neeme (near Tallinn)
Dziaugsmas, Vilnius
Restaurant 3, Riga
Mahedik Kohvik, Parnu
Kolm Tilli, Tartu
Fellin Kohvik, Vijandji
Goldingen Room, Kuldiga
F-Hoone, Tallinn
Pamario Takas, Juodkrante
This was meant to be "my top 5" list but there are so many great places to eat all over the Baltic States right now that it turned into "my top 10". This list is sort of in order of favourites, but it's very difficult to compare somewhere we ate a smart dinner (Uoksas, Restaurant 3) to a place we had breakfast (Kolm Tili, Pamario Takas), or a fish restaurant with an amazing location (Ruhe) to a cheaper, more casual one (F-Hoone), so my list must be taken with a pinch of salt. I'm not a restaurant critic so my "reviews" are all completely biased and affected by personal factors such as how kid friendly a restaurant is (I have a 3 year old). All the Baltic restaurants on this list are worth a visit from one point of view or another and this is why: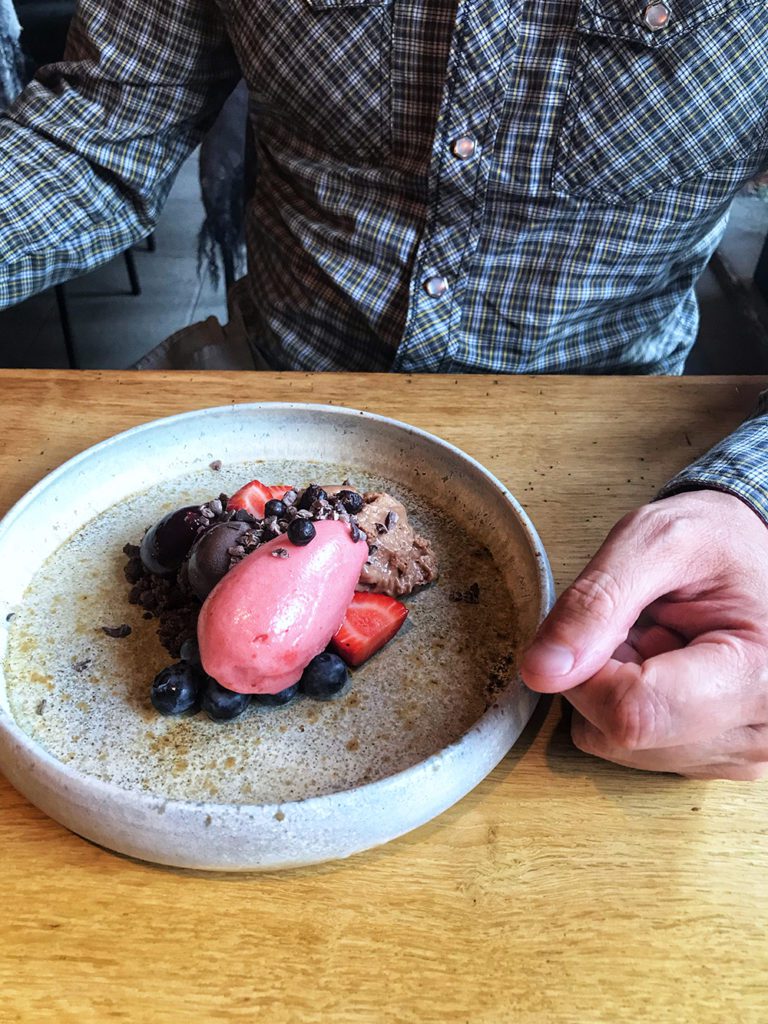 Uoksas, Kaunas
Uoksas restaurant lies in the heart of Kaunas in Lithuania (set to be European Capital of Culture in 2022). You can pre-order an exquisite tasting menu here starts for 30 euros per head, but this is not the only reason this restaurant is at the top of my list! The staff are incredibly charming and friendly – they even gave our 3 year old her own complimentary cocktail (non-alcoholic obv) – and the food was just superb, every single morsel of it. The idea is locally sourced food and traditional tastes, done differently. The dishes that have stuck in my memory are – crayfish soup, an East European style ceviche and ox-cheek and buckwheat doughnuts. For that price – I advice you to book a flight to Kaunas so that you can go and eat at Uoksas (although there are, of course, plenty of other attractions here too, it's a fun city).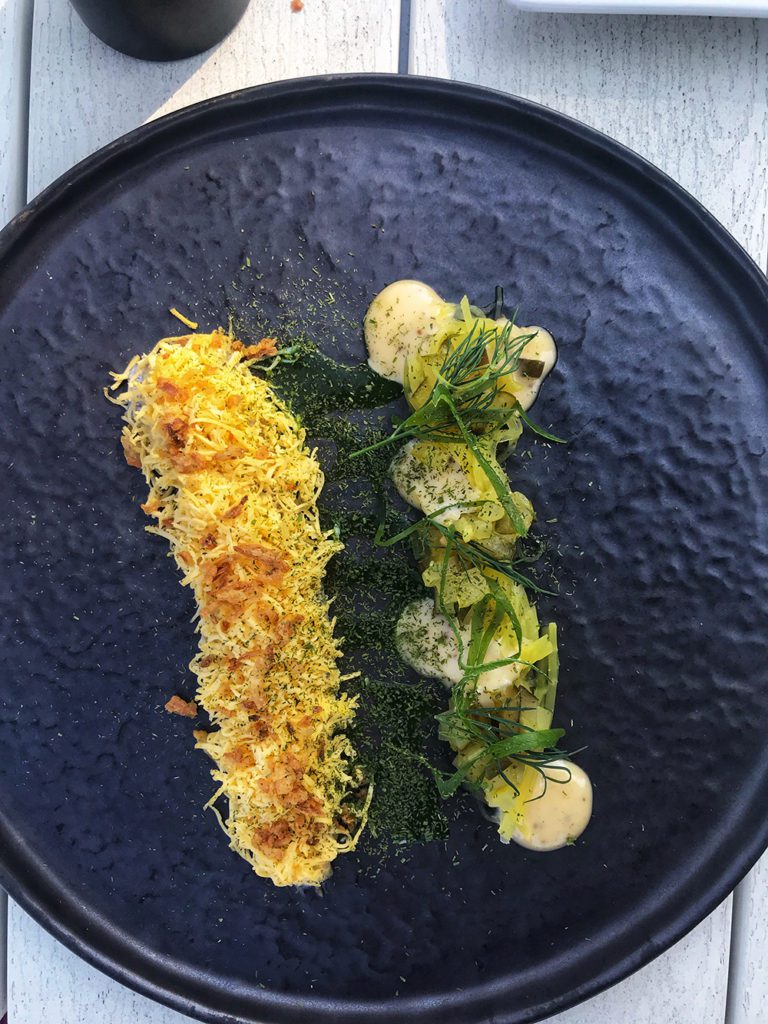 Ruhe, Neeme
Ruhe in Neeme is well-worth an excursion from Tallinn (it takes about 30min by car). Driving through pristine pine forests, you will eventually find yourself on a beach on the northernmost edge of the Estonia. The location is stunning, the food superb. While the restaurant is modern, they respect old fisherman's traditions with regards to cooking – they even smoke their own fish on site. Kids are welcome and looked after with a lovely play area (though Nusia preferred to just play on the beach). Incredibly friendly service.
Dziaugsmas, Vilnius
Dziaugsmas in Vilinus was repeatedly recommended to us as the best restaurant in Lithuania. It didn't disappoint. We asked to sit on the terrace, as with Nusia the interior felt too formal, but the terrace gave her room to move and we felt relaxed – the waiter even let her pick and eat the cherry tomatoes from the plants up there (he said his daughter had done the same). We ordered lots of sharing plates – home-cured cold cuts and ferments, stuffed courgette flowers, chanterelles with blueberries (what grows together goes together!) and a raspberry and tomato salad (which you see Nusia tucking into up there). Beautifully presented, local, seasonal – you see the theme here…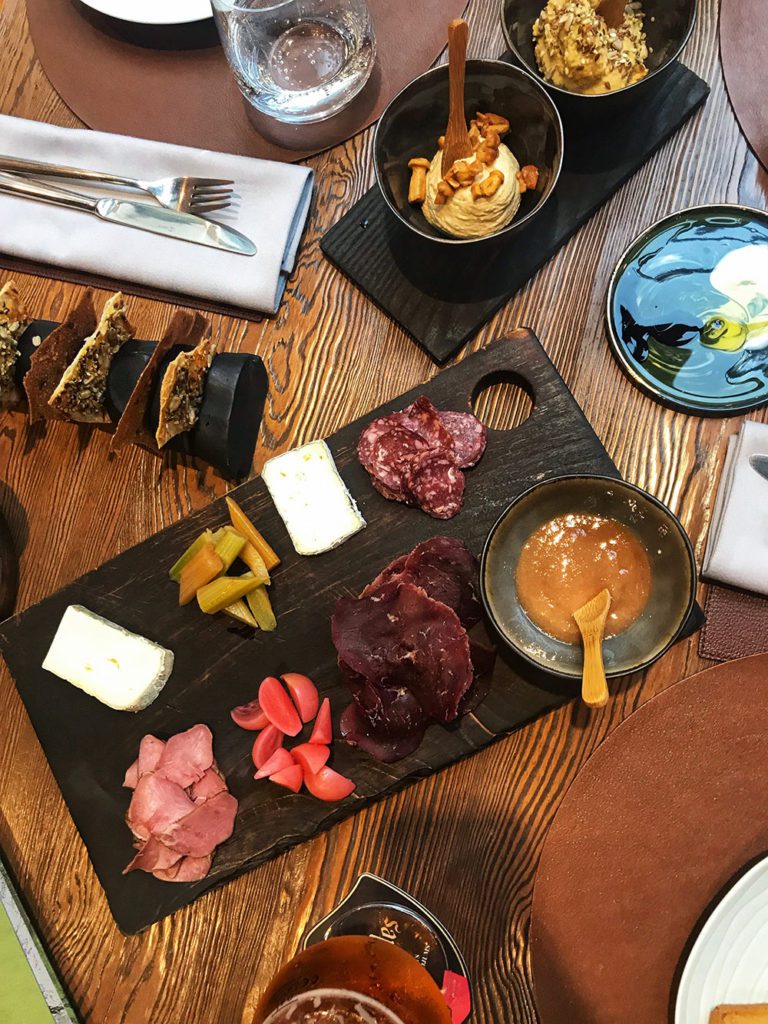 Restaurant 3, Riga
It is the beautiful old town of Riga that you will find Restaurant 3. The philosophy is simple – natural food that preserves the earth's biodiversity. To me, what's important is an effort in the right direction, I don't like it when restaurants try too hard to impress (or shock) me and the guys at Restaurant 3 have the right approach – strong ethics and amazing, locally sourced food. Specifically, I loved the board of local cold cuts and fermented radishes and rhubarb but we gobbled up everything they put in front of us with great appetite.
Mahedik Kohvik, Parnu
Mahedik Kohvik in Parnu is the extremely stylish cafe where we had one of our favourite brunches. We only stayed for one night in Parnu, but I would have happily returned there for dinner, due to it's beautiful food, casual atmosphere and chic interior. We ate a massive "syrnik" (they described it as a curd cheese doughnut in English) with soured cream and berries and overnight porridge with crunchy, chocolatey buckwheat "popcorn" – tasty, fun food!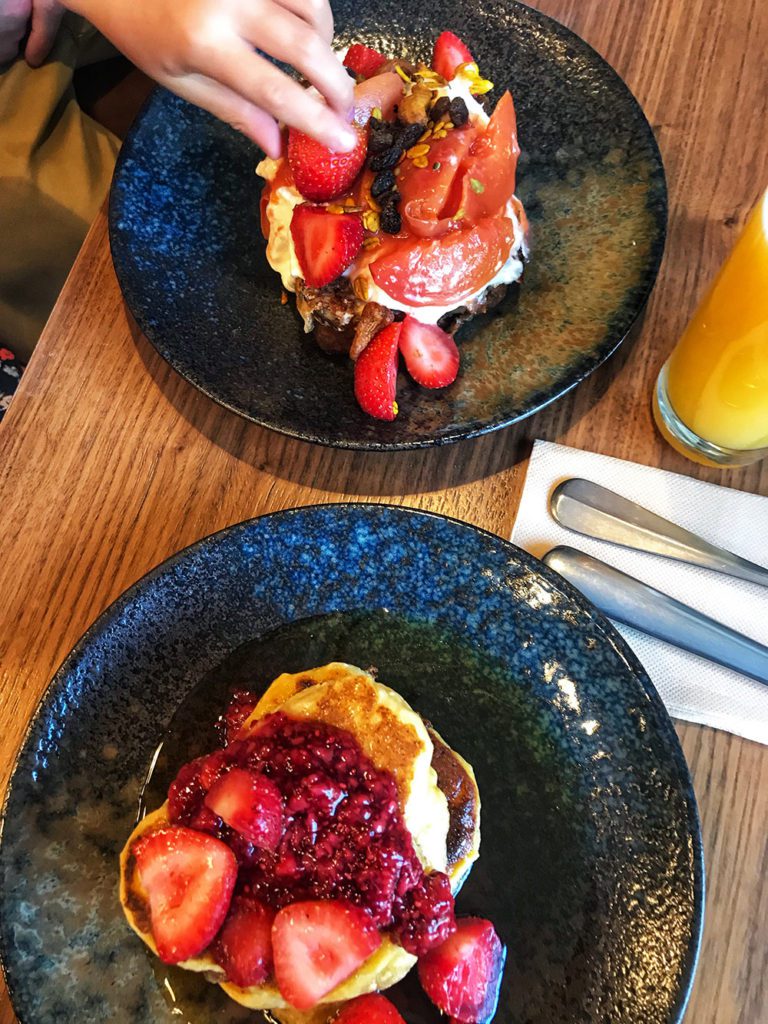 Kolm Tilli, Tartu
Kolm Tili was another great brunch spot and we went there two days in a row. We were luckily staying next to the coolest courtyard in the city – Kastani. Here, industrial buildings have been repurposed into restaurants, cafes and boutiques. Again, we ate those "syrniki" up these with fruit and cream, but we also had them savoury, as part of our eggs benedict – a revelation!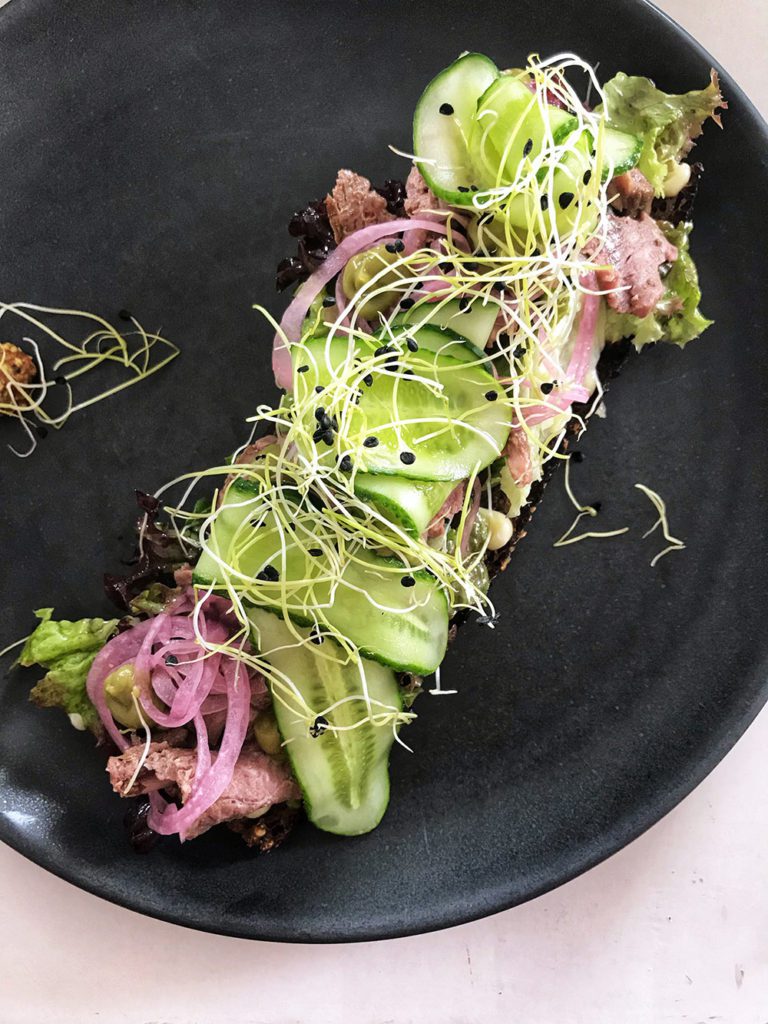 Fellin Kohvik, Vijandji
On our way to Tartu we stopped in charming Vilijandi for a delicious lunch at Fellin Kohvik. Here, I ate the best open sandwich of my life. For a Polish person to make this statement, that's pretty strong – I've had many fantastic open sandwiches. Yet this one up here with lamb, lightly pickled slithers of cucumber and red onion and topped with sprouts has won the crown. Their cakes are also amazing!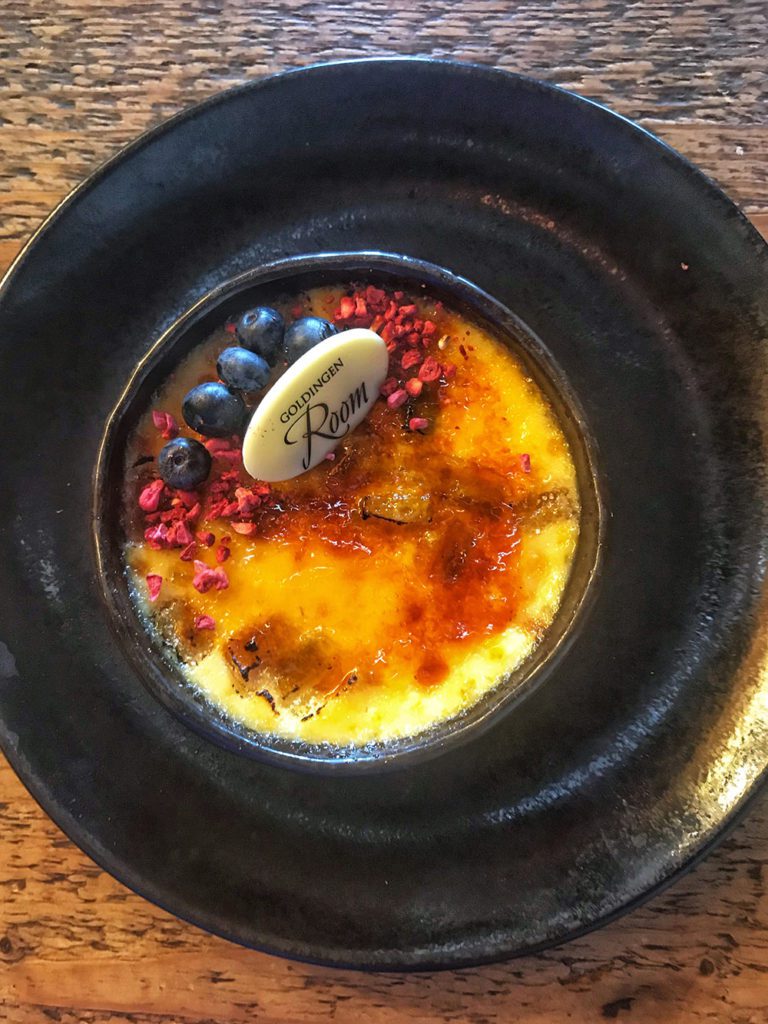 Goldingen Room, Kuldiga
We arrived in Goldingen Room in Kuldiga on a hot day, starving and thirty. I ordered about a gallon of birch water – the most refreshing Baltic drink. The chef here studied in Italy so the the food is Baltic with Mediterranean twist – buckwheat with pesto and seasonal vegetables, local lamb shashlik kebab… but it was the desserts that stole my heart- a deconstructed honey and camomile cake with ice-cream, rhubarb crème brûlée – divine.
F-Hoone, Tallinn
F-Hoone isn't a high end restaurant – it's reasonably priced, ethical and relaxed. You'll find F-Hoone in the most fun area of Tallinn – Telliskivi, opposite the playground (I love it that even the cool places in Estonia always consider the kids!). It's not strictly Baltic food, more of a European menu, where you're just as likely to find syrniki as you are tempura, so there's something for everyone! We heard that F-Hoone has the best veggie burgers in Tallinn, so this is what we came for, yet a misunderstanding led to us eating normal burgers (also very good).
Pamario Takas, Juodkrante
If you plan to go to the Curonian Spit in Lithuania, I recommend that you stay in the quiet Juodkrantė rather than touristy Nida. There are two or three good restaurants here, which are immediately obvious. Every morning for breakfast we ended up in the brightly coloured Pamario Takas (you literally can't miss it). They also do "catch of the day" for dinner, so do ask about that.