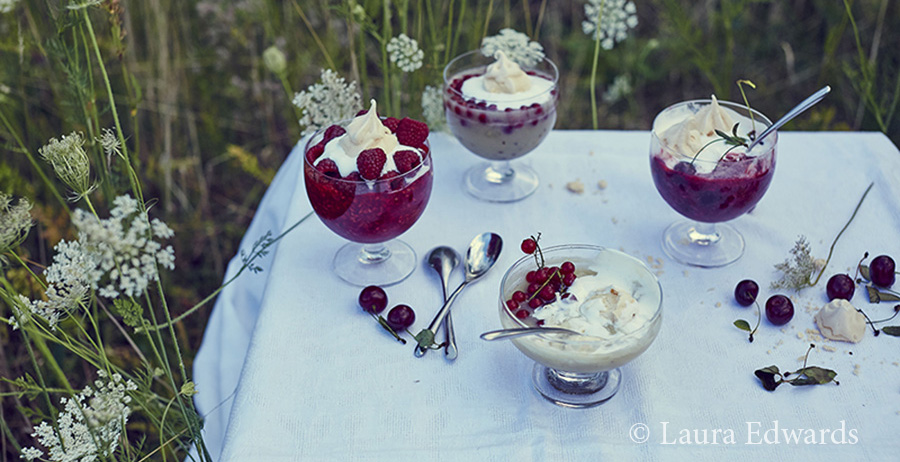 23 Jun

Eating seasonally: Summer berries

You know that summer has arrived when you can finally eat juicy, flavoursome, local berries. They don't taste quite the same at different times of the year. I always make it my general policy to eat as many berries as it takes to make myself truly sick of them by the time Autumn comes. I eat them for brunch with a sweet breakfast omelette, for breakfast I like them with oats (either in porridge or in a cold pot like this on really hot days), with yoghurt and honey as a snack, or as a dessert. There are so many ways you can add berries to your dessert – they go brilliantly with cheesecake, chocolate mousse and meringue, yet really I believe they deserve to be more than an afterthought, they are fabulous enough to be the star of the show.

Kisiel is a dessert that was very popular in my childhood. As it's reasonably healthy (lots of vitamins, not too much sugar) and very straightforward to make (not taking too many ingredients – important during those scarce Communist times), parents would often make this for their children. You can make it with any kind of berries you have – berries are perfect as it needs to pack a flavour punch of sweetness and tartness. Your basic is super simple to make, but for something a little bit more fancy I have added some whipped cream to soften the tart raspberry blow and meringue clouds for crunchiness.

Here is a recipe for raspberry kisiel with meringue clouds from my book "Polska". If you would like to use sweeter berries, like strawberries, then take out half the sugar.

Ingredients

400g fresh raspberries plus a few more for decoration
2 heaped tablespoons potato flour or cornflour (cornstarch)
400ml filtered water
100g caster (superfine) sugar
Juice of half a lemon

2 egg whites
pinch of salt
100g caster (superfine) sugar
1/2 teaspoon vanilla extract

Whipped cream to serve

Method

First, make the meringues. Preheat the oven to 120 degrees C. Whisk the egg whites and salt until stiff peaks form, the add the sugar and vanilla extract, whisking all the time. Use a piping bag to create 12 small clouds on a baking tray lined with paper. Bake in the oven for 1 and a half hours until crisp then cool in the oven with the door ajar.

Combine the flour with half of the water until you get a smooth mixture and bring the rest of the water to the boil. Add the water and flour mixture to the boiling water stirring all the time while it thickens (about 2min).

Blitz the raspberries in a blender with the lemon juice. Do this briefly as you still want some fruit chunks in there.

Add the fruity mixture to the thick, hot flour water. Bring this to the boil once more, stirring, then remove from heat.

Rinse your serving bowls with cold water and pour this mixture out among them. Allow to cool then chill in the fridge for at least 30min, preferably longer.

To serve, whip the cream and place a dollop inside each serving bowl, top with a couple of meringue clouds and more raspberries.