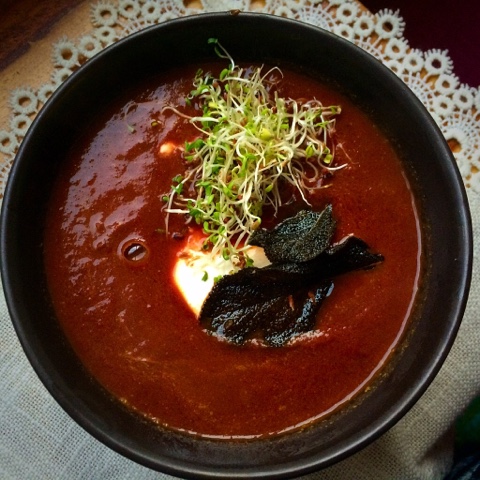 12 May

Roasted purple carrot and sage soup, and earth-mothering

I am doing my own brand of earth-mothering right now. Although I can't quite bring myself to use cloth nappies, I am washing my bubba in camomile water and using the most eco friendly, natural products possible. While I'm probably not going to do prolonged breastfeeding, I am still doing it at 5 months and will try to keep going for the rest of the year (though that's not to say formula won't get introduced at some point too). The idea is to be as much of an earth-mother as possible without making life too inconvenient. I think that's a fair compromise. I do dream of living somewhere more green and growing my own organic fruit and vegetables, but for now this is just a dream while we survive our first year in busy Hackney. Luckily, we do have some (over-priced) organic shops here now, which is where I found my purple carrots for this earthy soup purple carrot and sage soup..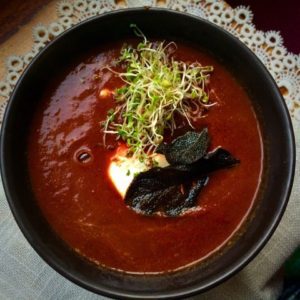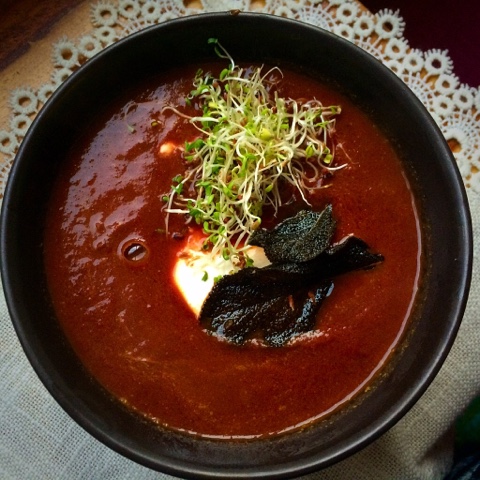 Ingredients (serves 2)
6 purple carrots
500ml chicken or vegetable stock
Handful sage leaves
Rapeseed oil for roasting
1 teaspoon mustard powder
Sea salt and white pepper
Soured cream to serve
Alfafa sprouts to serve
Recipe
Roast the purple carrots with a handful of sage leaves, some
rapeseed oil
and
Maldon sea salt
on 200 degrees C for about 20min.
Reserve a few crispy sage leaves for decoration and blend everything else with some good quality stock (I used chicken stock).
Return to the pan and season with more sea salt, white pepper and
mustard powder
.
Serve with a dollop of soured cream, some
alfafa sprouts
and those crispy sage leaves you put aside.