30 May

My top 3 Polish vegetarian recipes

Polish is not the first cuisine that comes to mind when you utter the word "vegetarian", and yet there are many recipes that are either vegetarian or lend themselves particularly well to being meat-free. Poland, being a Catholic country, has many "fasting" days. In days past, the fasting was observed more strictly, now by not eating meat on certain days we give the old ways a nod. Our most important Christmas meal, on Christmas Eve, is in actual fact a fast, and the 12-13 meticulously prepared dishes contain only vegetables and fish. We are therefore used to using ingredients creatively to prepare flavoursome vegetarian meals. I plan to expand this list over time to add all my favourite vegetarian recipes, but for now, here are my top 3 Polish (or indeed East European) vegetarian recipes.

1. Blinis with Aubergine Caviar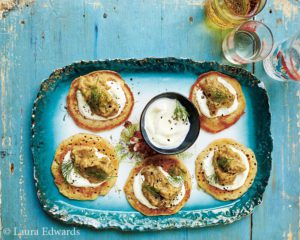 Blinis can be eaten with anything we want really: red or black caviar, salmon and soured cream, mushrooms… but this aubergine caviar is one of my favourite toppings and it's very simple to prepare. It's an ideal "zakąska" – a sharing platter for when we have guests, or "party food" as I like to call it. Blinis are perhaps strictly more Russian cuisine than Polish, yet they are also very popular in more eastern regions of Poland.
Ingredients

Aubergine Caviar

4 aubergines (eggplants)
3 garlic cloves
Juice of 2 lemons
100ml extra-virgin olive oil
Handful flat-leaf parsley
Salt and white pepper to taste
Buckwheat Blini
750ml milk
20g fresh yeast
2 teaspoons caster (superfine) sugar
200g plain flour
200g buckwheat flour
2 eggs separated
300g melted butter
2 pinches of salt
Rapeseed oil for frying
Soured cream to serve
Chopped parsley to serve
Method
Place the aubergines over the flame on your hob and cook in this way, turning with tongs, until they are charred and soft inside. Repeat with garlic, using your tongs to hold the cloves. Blitz in a food processor with lemon juice until smooth. Then transfer to a bowl and whisk in the oil. Season. Add the parely and chill in the fridge.
To make the blinis, heat 175ml of milk until tepid warm. Add the yeast and sugar. Sift in the plain flour into a bowl, the add the milky yeast. Mix well then set aside for 20min, somewhere warm. Meanwhile whisk the egg whites until you have soft peaks.
Add the buckwheat flour to the rised dough and add the remaining milk. Beat with a wooden spoon until well combined. Then start adding egg yolks, egg whites, melted butter and salt. Return the bowl to a warm place for another 20min.
Add some rapeseed to a frying pan and fry the blinis in batches – about a tablespoon of batter per blini. Fry them quickly on hot oil – about a minute each side. Transfer to a warm oven and keep them warm while you fry all the others.
Serve with a dollop of aubergine caviar, soured cream and more chopped parsley.
2. Gołąmbki – Little Pigeons
Every household has their own version of Little Pigeons. Some very meat heavy, others entirely vegetarian. This is a recipe I have cooked many a time for vegetarian friends and is always well received. Wild mushrooms are always preferable in my eyes, yet they can easily be replaced with a combination of chestnut and shitake mushrooms in this recipe. This recipe makes a whole casserole dish full of gołąmbki, enough for 4 or 5 people.
Ingredients
1 leafy cabbage
Rapeseed oil for frying
1 onion, finely chopped
400g mixed mushrooms, finely chopped
1 tablespoon dried thyme
4-5 garlic cloves, crushed
250g cooked rice
1 litre vegetable stock
3 tablespoons tomato puree
1 bay leaf
Salt and pepper to taste
Method
Preheat the oven to 150 degrees C.
Wash the cabbage, then blanch it in hot water to soften for a minute or two. Separate the leaves. Use only the bigger, softer leaves. Drain the cabbage leaves on kitchen paper.
Add a little oil to a frying pan and fry the onion until soft, remove from the pan and fry the mushrooms until golden. Combine the two and add the thyme and garlic too. Season. Remove from heat and allow to cool.
Combine the vegetable stock with the tomato puree. Season.
Take one fo the cabbage leaves and put two tablespoons of filling inside it. Wrap it like a burrito – first lengthways, then fold in the edges, the roll the rest of the way lengthways. Place vertically inside a casserole dish or another heatproof dish. Continue with the remaining filling and cabbage leaves, packing the gołąmbki in very close together.
Pour over the stock mixture, add a bay leaf and cover with small cabbage leaves that couldn't be used to roll. Bake for 1 hour.
3. Barszcz Czysty z Uszkami – Clear Borscht with Wild Mushroom dumplings
This is a classic Christmas Eve soup, made on a wild mushroom stock. While you can often replace wild mushrooms for different mushrooms in my recipes, I would not recommend it for this one, as this would affect the taste too much. These small dumplings are a little fiddly but fun to make. You can make lots and freeze some of them for other occasions, and you can do the same with the borscht. Therefore, while this recipe takes a while to make, you can get quite a few meals out of it!
Barszcz method
4-5 beetroots, peeled
10-15 dried (boletus) mushrooms, washed and soaked for 2hr
Carrot
Parsnip
½ Celeriac
Celery stalk with leaves
1-2 bay leaves
3-4 Allspice berries
6-7 black peppercorns
1 tablespoon marjoram
Salt and white pepper to taste
Cook the mushrooms for about 2 hours in about 500ml water.
Cook the rest of the vegetables for 1 hour along with a bay leaf, peppercorns and the allspice berries in about a litre and a half of water.
Strain the broths through a sieve and into one pan (you would add the soured beet juice at this point), season well with salt, pepper and marjoram and simmer for another 15min or so.
Ingredients
Dough
400g plain flour
2 egg yolks
2 tablespoons butter, melted
125-150ml warm water
Pinch of salt
Splash of rapeseed oil
Filling
10-20 dried mushrooms, chopped
150g sauerkraut
2 small onions or 1 large one, chopped finely
1 tablespoon butter
Splash of (any) wine
¼ teaspoon allspice
Salt and white pepper
Uszka method
If using dried mushrooms, wash them under cold water and soak them for 2 hours or, preferably, overnight.
Cook the mushrooms in a little bit of water – so that they are just covered – for about an hour.
Now add the (drained) sauerkraut, bay leaf and allspice and simmer for a further hour. Add a splash of beer or wine if the mixture gets too dry at any time, but don't over do it – there should not be any surplus liquid near the end.
While this is all stewing, we make the dough by combining all the dough ingredients and kneeding it until smooth and soft – about 20min.
Cover the dough in a wet cloth and allow to stand at room temperature for a further 20min. This step is not absolutely necessary but it does increase elasticity, and since we are waiting for the mushroom and sauerkraut mixture to cook, we may as well do it.
Fry the onion in the butter in a frying pan until golden.
Take the bay leaf out of the sauerkraut and mushroom pan and blend the filling to a rough paste, then add it to the onion and fry for just 5minutes altogether whilst stirring.
Allow the filling to cool while you roll the dough out on a floured surface, as thin as you can get it and follow the diagram to you're your "little ears".